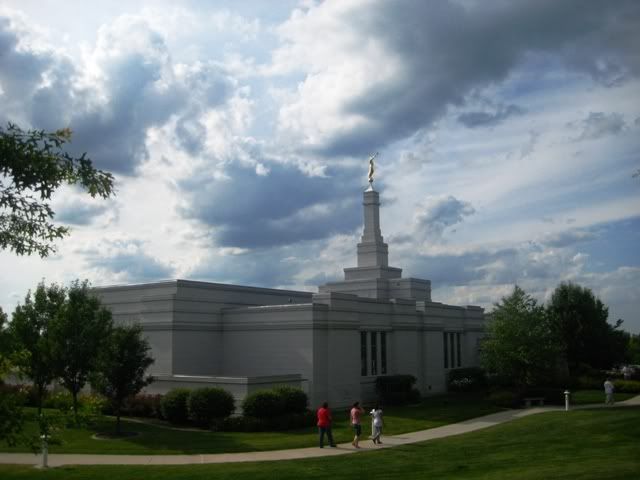 We drove 3 1/2 hours yesterday to get the Palmyra temple
(click here to learn more about LDS temples and how families can be together forever)
. Our friends the
Nazelrods
got sealed together as a forever family. Heath and I had been debating who would go in the temple and who would stay out with the kids. Last week I thought I would just stay home with the kids because it would be too hard to figure out a way for someone to watch them. Heath said we should all go. You have to make reservations at this temple because it is small and well attended. I made a reservation to go to the sealing hoping (but not knowing) that I would be able to go. I had not made a reservation to do an endowment session.On Thursday I said a prayer that I might be able to go in the temple. I didn't know who would watch the kids and it is so hard for me to leave Asher because I worry so. An answer came with a question asking If I believed that it was possible, that He (Heavenly Father) could make it possible. I knew he could. The next day a lady from our ward called to tell me she was sorry that she missed the emergency preparedness class I had taught the night before. She also told me that she would not be able to attend the temple on Saturday (I wasn't sure why she told me that part but whatever). Friday night Chris Nazelrod called and asked if he could borrow Heath's pants and asked that we be at the temple by noon. We left at 8:15 am and did arrive at noon. Heath planned on staying outside with the kids so that I could go in for the sealing. He was sick this week and said that it might be better if I went in. We were there at noon and the sealing wasn't until 3. The endowment session started at 1:30. I then realized that we were there in time for the session and that the lady from my ward that called me on Friday wasn't going to be there. I went into the temple and asked if I might be able to take her spot in the endowment session. They said I could. I came out to tell Heath, kissed him goodbye with tears in my eyes realizing all the things that had worked together for me to get to go into the temple. I sat in the small waiting area with my bag and the bishop came and sat by me. We talked and a temple worker approached and asked the bisphop if I was a friend. He explained who I was and told him that Heath was outside with the kids. I am a cry baby. I get this from my mom. I couldn't hold the tears back. I felt blessed and grateful. Blessed that Heavenly Father answered my prayer once again and grateful that my husband let ME go in the temple. The man saw my tears and explained he knew how I was feeling. He asked if he could watch my kids. He only lived a few minutes away and would love to watch the kids. His wife walked by and agreed. I told them that Heath hadn't even dressed for the temple and explained Asher's condition. He asked if when we came again he could watch the kids. I told him that would be very nice. I, of coarse, continued to cry. I made my way though the session and into the sealing room. The man that sealed the Nazelrods was the same sweet man that offered to watch my kids. After the sealing and on my way out of the room the man stopped me again and told me to not forget his offer. I told him I wouldn't. I couldn't get to the dressing room fast enough. I was ready to see my little family outside of the temple. I told Heath of the man and his offer and the man walked out of the temple right after I was done talking about him. His home was just right up the hill. Heath said only the temple president would live in that house. It was the temple president I told him. It said President on his tag. I had not put two and two together until that moment. Again I began to cry. I don't know exactly what the duties of a temple president are but I know he must be busy but he offered to take care of my children so that I could be in the holy house of the Lord with MY husband. What a sweet experience and a good day.
In the car on the way. Noah ignoring me :)

I love this picture because of Asher's cute face. Makes me laugh. Made it to the temple. It was cold.

After

The Nazelrods

...Pause to help and lift another, Finding strength beyond my own. Savior may I learn to love thee - Lord, I would follow thee...In the quiet heart is hidden Sorrow that the eye can't see. Who am I to judge another? Lord, I would follow thee. -Lord, I Would Follow Thee (pg. 220 LDS Hymnal)